Pyranometer (iso 2nd Class)
Model No : LP PYRA 03
Stock : Instocks
pyranometer is a type of actinometer that can measure solar irradiance in the desired location and solar radiation flux density. The solar radiation spectrum extends approximately between 300 and 2800 nm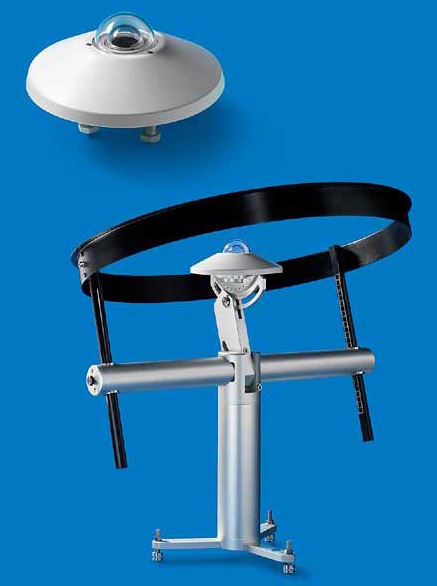 ---
Description
LP PYRA 03 : Pyranometer (ISO 9060 Second Class)
LP PYRA 03 Pyranometer measures the irradiance on a plane surface (Watt/m2). Measured irradiance (Global Irradiance) is the result of the sum of direct solar irradiance and of diffuse irradiance.
Delta Ohm manufactures Second Class LP PYRA 03 Pyranometers with calibration certificate, which fully comply with ISO 9060 standards, and meet the requirements defined by the World Meteorological Organization (WMO). A 10 meter long cable, These are strong and reliable ground-based instruments, especially designed to be used under all weather conditions. They are suitable for installation on the field. No power supply is needed; Pyranometers generate a voltage, Every pyranometer is calibrated separately and is supplied standard with a WRR (World Radiometric Reference) Report of Calibration.
LP PYRA 03 Pyranometer is based on a thermopile sensor. The thermopile sensitive surface is coated with a black matt paint, which allows the pyranometer not to be selective at different wave lengths. The pyranometer spectral range is determined by the transmission of the glass dome type K5.
Recommended use:-
Atmospheric research
Weather stations
Climatology
Energy saving research
Productive efficiency test of Photovoltaic plants etc.
Technical Specification of Pyranometer
Classification : Second class (ISO 9060)
Detector Type : Based on a thermopile sensor
Measuring Irradiance Range : 0 - 2000 W/m2
Spectral Range : 305 nm to 2800 nm
Typical sensitivity : 10 mV/ (W/m2)
Response time 95% : < 30 sec.
Field of View : 1800
Impedance : 33 to 45 Ohm
Response to thermal radiation (200Wm-2) : 25 W/m2
Response to temperature change 5K/h : <± 6 W/m2
Non stability over 1 year : <± 2.5%
Non linearity : <± 2%
Cosine response : <±22 W/m2
Spectral selectivity : <±7%
Response with regard to temperature : < 8 %
Tilt response : <± 4%
Operating temperature : - 40 0C to 80 0C
Operating Humidity : 0 to 100%
Storage temperature : - 40 0C to 80 0C
Cable : 10 meter cable (Cable can be extend up to 60 meter).
Weight : 0. 45 Kg