Tdr Soil Moisture Meter
Model No : FOM2/mts
Stock : Instocks
TDR (Time Domain Reflectrometry) technology delivers very accurate determination of soil moisture content.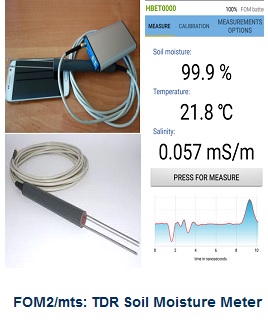 ---
Description
FOM2/mts TDR Soil Moisture Meter as well as the related probes developed in the Institute of Agrophysics Polish Academy of Sciences, Lublin, Poland and manufactured in E-Test Ltd. -Poland.
The FOM2/mts and is a measurement device for Soil moisture (on the base of Time Domain Reflectometry technique), and electrical conductivity (salinity). FOM2/mts is a new TDR meter for field measurements of soil moisture, temperature and electrical conductivity. The new field instrument is smaller, lighter and has better battery. It is equipped with a Bluetooth Low Energy module and can be operated by a smartphone or a tablet using an Android app. ​Due to implemented modifications and manufacturing improvements, the new FOM2/mts is a more economical solution without losing measurement accuracy.
Features:-
Controlled remotely via Bluetooth Low Energy by an Android (v. 4.3 and higher) app available on web.
Measurement capabilities and accuracy as: soil moisture (accuracy: ±2%), bulk electrical conductivity (accuracy: ±0.01 S/m) and temperature (accuracy: ±0.5°C).
USB port enables full control by a PC application
FP/mts : Field TDR Probe
FP/mts is a Time-Domain Reflectometry probe for momentary or semipermanent installation for in situ simultaneous measurement of Moisture, Temperature and Salinity (bulk electrical conductivity) of the soil from the same sampling volume. Thin-wall PVC body of the probe provides ultimate low heat conductivity, thus allowing to avoid the parasite "thermal bridge" effects on distribution of soil moisture in the probe's sensor vicinity.
Features:
Measurement of soil moisture, bulk electrical conductivity and Temp.
Operates with FP/mts field meter and TDR/MUX/mpts laboratory meter.
Applicable for field use or monitoring purposes.
Physical characteristics:-
Two 10 cm long sharpened acid-resistant steel rods (2 mm in diameter, separated by 14 mm).
Sensor support made from a section of a PVC tube of 2 cm outer diameter and length from 15 to 150 cm (or longer on request), dependent on the intended depht of the sensor installation.
Available straight or curved sensor support for easy installation.
Available cable lengths from 5 m from the sensor to the terminating SMA connector.
On special request, additional support shapes, rods of different lenghts and diameters are available.
Specification
Soil Moisture:-
Volumetric Soil Moisture Range : 0 to 100 % (VWC)
Accuracy : ±2 % (or less if the measured soil is individually calibrated)
Resolution : 0.1 %
Repeatability : ± 0.1% VWC

Soil Temperature:-
Temperature Range : -20 to +50 °C
Accuracy : ±0.5 °C or less if read from individually calibrated probe
Resolution : 0.1 °C
Electrical conductivity:-
Electrical Conductivity Range : 0.000 ÷ 1 S/m
Accuracy : ±10 % for 0 ÷ 1 S/m or less if read from individually calibrated probe
Resolution : 0.001 S/m
TDR Meter : Hand Held TDR Meter & Display Unit
Display Unit : 5-inch capacitive touch screen display
Display Unit Software : user friendly software
Communication with PC : By USB cable
Data Storage : up to 1000000 data set
Time of test : less than 5 sec.
Working temperature : 0 to +50 °C
Storage Temperature : -10 to +50°C
Probe length : 15 cm to 150 cm (Probe length as per customer requirement)
Pulse : sin2 -like needle pulse having 200 ps rise-time
Calibration : User can calibrate FOM2/mts TDR meter using the supplied software
Probe Cable : 5 meter
Power : Li-Polymer, 2500 mAh, 3.7VDC (Rechargeable)
Battery Life : 3000 measurements or 182 days of stand-by
Charging : >0.5A/5V micro USB plug charger or power bank
Meter Dimensions: 180 x 85 x 58 mm
Weight : 200.5 g