Soil Respiration System
Model No : DIK-0450
Stock : Instocks
This equipment possible to measure Soil CO2 Temperature Humidity Barometric pressure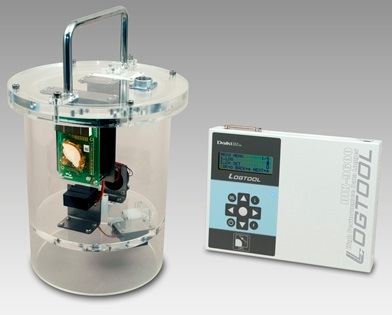 ---
Description
DIK-0450 : Soil Respiration System with Datalogger and GPS
Soil respiration is a key ecosystem process that releases carbon from the soil in the form of CO2. CO2 is acquired from the atmosphere and converted into organic compounds in the process of photosynthesis. Plants use these organic compounds to build structural components or respire them to release energy. When plant respiration occurs below-ground in the roots, it adds to soil respiration.
DIK-0450 Soil Respiration System anyone is easily possible to measure CO2 in soil with just putting this device on the ground. From the short-term to long-term measurement is widely applicable. It is designed to measure four element, Soil CO2, Temperature, Humidity and Atmospheric pressure.
Soil CO2 datalogger enable to record measurement data, A fan and the open/close valves are automatically controlled according to the measurement. Under measurement air is shut and circulated inside chamber by a fan. After measurement, air is ventilated through inside and outside with opening a valve.
Datalogger with built-in GPS can acquire position information at the same time.
By connection an optional chamber under the measurement chamber, it is possible to observe the plant assimilation and also the breathing outbreak gas measurement of small animal.
Features:-

This equipment possible to measure Soil CO2, Temperature, Humidity, Barometric pressure.
It is best for on-site measure of soil respiration.
Measurement control datalogger records valuable data.
Large data storage in 2 GB Micro SD cards.
Digital Datalogger with GPS records valuable data and pinpoint location at the same time.
Continues use 8 hours in field without battery charge.
Easy to use & one person can handle
CO2 chamber Components:-
Inlet port : The servo motor opens and closes the inlet port.
Exhaust port : The servo motor opens and closes the exhaust port.
Circulation port : The servo motor opens and closes the circulation port.
Circulating fan : Circulates air through the chamber while the background or soil CO2 is being measured.
Sensors : Used to measure CO2 concentration, atmospheric pressure, temperature and humidity.
Technical Specifications
CO2 Sensor
Measurement method : Non-Dispersive Infrared absorption (NDIR)
CO2 Measurement range : 0 to 4000 ppm
Resolution : 1 ppm
Response time : 20 seconds
Measurement interval : 2 seconds
Operating temperature range : 0 to 50°C
Operating humidity range : 0 to 95% (no condensation)
Power supply : 12 VDC
Atmospheric Pressure Sensor
Measurement range : 500 to 1100hPa
Resolution: 15Pa
Temperature Sensor
Measurement range : −40 to 60°C
Resolution : 0.1°C
Humidity Sensor
Measurement range : 0 to 100%
Resolution : 1%
CO2 Chamber
Material : Exterior: Acrylic, transparent PVC, POM, Bracket and others: SUS
External dimensions : Placement area of ground: Outside diameter of 216 mm, Inside diameter of 200 mm
Total height: 400 mm (chamber 300 mm, handle 100 mm)
Max. outside diameter: 260 mm Chamber capacity: 6.25 L
Circulating fan : Max. air flow of 0.09 m3/min, Max. static pressure of 110 Pa, Rotation speed of 4500 rpm
Vent valve : 3 programmable control valves (DC servo motor driven)
Data logger
Analog input : Channel 1, CO2 concentration
Channel 2, Atmospheric pressure
Channel 3, Temperature
Channel 4, Humidity
Display : LCD (4 lines x 20 characters)
Language : English
Backlight : Remains lit for about 5 seconds when the "L" key is pressed
Data storage device : microSD card (2 GB)
Data Storage Capacity : over 500000 Data
GPS Measurement System : WGS-84
Power supply : AC adapter, DC input (12 VDC battery)
Backup power : 4 AA batteries for momentary power interruptions
Power consumption : Max. 500 mA (sleep mode: 5 mA or less)